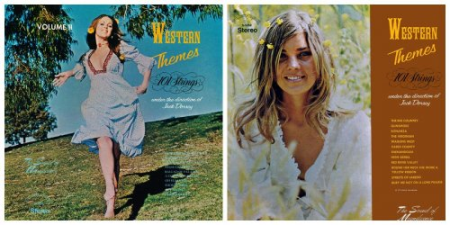 Artist: 101 Strings Orchestra
Title: Western Themes, Vol. 1-2
Year Of Release: 1972/1973/2021
Label: Alshire
Genre: Easy Listening, Folk
Quality: 16-bit/44.1kHz FLAC / 24-bit/96kHz FLAC
Total : 55:45 min
Total Size: 406 MB; 1.18 GB
The 101 Strings Orchestra established a reputation as one of the finest ensembles in the easy listening genre. Yet the group actually never existed as a perfog orchestra: it was a recording-only ensemble made up of musicians whose personnel often changed from one recording to the next. Moreover, many early albums released under the name 101 Strings were actually reissues of recordings made by such groups as the Rio Carnival Orchestra, New World Orchestra, and others. Under its now-familiar name, more than 100 recordings were issued by two labels -- both of which owned the name, hired the players in the ensemble, and, most importantly, provided for the music arrangements that have been crucial to maintaining the orchestra's familiar sound -- a dreamy, silken sound not dissimilar to that of Mantovani. Some 101 Strings' albums featured brass instruments, piano, and guitar, though the string section always remained the dominant part of the sonic fabric. Occasionally, too, the music's character veered into more popular styles, including rock.
In 1957 innovative record label executive David L. Miller founded the 101 Strings Orchestra in an attempt to compete in the lucrative market occupied by Mantovani and a few others. Miller's first release came out on his Somerset label, using musicians from the Hamburg Orchestra; later ones typically employed European musicians of reasonable, perhaps even considerable skills.
Miller used an unusual but successful strategy to market his records: some were sold in grocery stores and all, because of lower labor costs, were priced below most competitors' offerings. 1958 was a bumper-crop year for him: he released 24 titles under the 101 Strings name, including some reissues made originally by other orchestras.
Much of the success of the enterprise was due to the work of the arrangers, Robert Lowden, Joseph Kuhn, and Monty Kelly. In 1964 Miller sold 101 Strings to lyricist/businessman Al Sherman, who based his operations in London and began issuing new titles (and eventually older ones) under the Alshire label. Among the ensemble's more popular records from the 1960s and '70s were Concertos U.S.A., Hawaiian Paradise, and East of Suez.
The last original 101 Strings recording was issued in 1981. In 1995 Madacy, Inc. bought the 101 Strings enterprise and began reissuing old recordings. An offshoot group, New 101 Strings Orchestra, was formed around that and modeled on the style of the original ensemble.
1972 - Western Themes, Vol. 1 (Remastered from the Original Alshire Tapes) FLAC
Tracklist:
01 - 101 Strings Orchestra - Theme from "The Big Country" (2:33)
02 - 101 Strings Orchestra - Theme from "Gunsmoke" (3:04)
03 - 101 Strings Orchestra - Bonanza (From "Bonanza") (2:08)
04 - 101 Strings Orchestra - Theme from "The Viian" (2:24)
05 - 101 Strings Orchestra - Wagons West (2:30)
06 - 101 Strings Orchestra - Theme from "Cade's County" (2:08)
07 - 101 Strings Orchestra - Shenandoah (3:18)
08 - 101 Strings Orchestra - High Sierra (From "High Sierra") (4:08)
09 - 101 Strings Orchestra - Medley: Red River Valley / Round Her Neck She Wore a Yellow Ribbon / Streets Of Laredo / Bury Me Not on the Lone Prairie (9:00)
1973 - Western Themes, Vol. 2 (Remastered from the Original Alshire Tapes) FLAC
Tracklist:
01 - 101 Strings Orchestra - Theme from "How the West Was Won" (2:17)
02 - 101 Strings Orchestra - Theme from "Wagon Train" (2:50)
03 - 101 Strings Orchestra - Theme from "The Magnificent Seven" (2:10)
04 - 101 Strings Orchestra - Theme from "High Chaparral" (2:21)
05 - 101 Strings Orchestra - Ballad of Paladin (From "Have Gun - Will Travel") (2:13)
06 - 101 Strings Orchestra - A Cowpoke's Dream (2:39)
07 - 101 Strings Orchestra - Oh, Susanna (2:43)
08 - 101 Strings Orchestra - Smokey Mesa (2:16)
09 - 101 Strings Orchestra - Get Along (2:16)
10 - 101 Strings Orchestra - Prairie Trails (From "Prairie Trails") (2:48)
1972 Western Themes, Vol. 1 (Remastered from the Original Alshire Tapes) 16-44.1 FLAC.RAR - 214.7 MB
1972 Western Themes, Vol. 1 (Remastered from the Original Alshire Tapes) 24-96 FLAC.RAR - 660.8 MB
1973 Western Themes, Vol. 2 (Remastered from the Original Alshire Tapes) 16-44.1 FLAC.RAR - 200.4 MB
1973 Western Themes, Vol. 2 (Remastered from the Original Alshire Tapes) 24-96 FLAC.RAR - 560.4 MB
DOWNLOADuploadgigrapidgatornitroflare