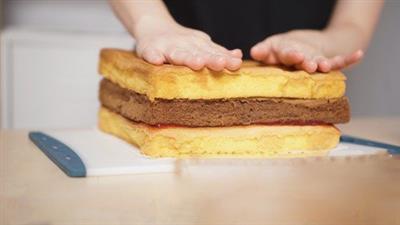 Authentic Traditional Indonesian Cake, Lapis Surabaya
Published 10/2023
MP4 | Video: h264, 1920x1080 | Audio: AAC, 44.1 KHz
Language: English | Size: 1.29 GB | Duration: 0h 41m

The video lectures incorporates two languages: Indonesian and English
What you'll learn
Everything you need to know to make the perfect Lapis Surabaya, every step of the way from mixing to serving.
The tools and materials needed to bake and assemble the cake.
Tips and tricks to get moist and soft cake.
How to make the filling ( Strawberry Jam )
How to store and serve the cake.
Requirements
At least have cake-baking experience.
Have baking tools, a mixer, and an oven.
Description
Lapis Surabaya is very famous, legendary, authentic and everyone's favorite for special events like Christmas, Chinese New Year, Eid al-Fitr, Birthdays, and other special events.Surabaya layer cake is one of the moist cakes that is often used as a souvenir from the City of Heroes, Surabaya in Java Island, Indonesia.Surabaya layer cakes consist of three layers, yellow, brown, and yellow again.Made from simple ingredients plus eggs, this gives Lapis Surabaya a soft texture and sweet taste, special and soft on the tongue. The soft, savory and sweet taste of the strawberry jam attracts and is a favorite of local and foreign tourists.This is a brief history.In Surabaya this layer cake is called Spiku, comes from Dutch, namely spec and koek.The word spec means pork fat. Meanwhile, the word koek means cake. Even so, this layer cake does not use pork in its making.This layer cake is associated with pork fat not without reason. The name arose because the cake has many layers that look like fat on pork belly.Spiku was develop during the Dutch colonial period in Indonesia, inspired by European layer cakes. Dutch colonist often produces this cake.Then it was modified and adapted by Chinese descendants in Indonesian.So go ahead and jump right into this historic cake adventure.
Overview
Section 1: Introduction + Tools you'll need
Lecture 1 Introduction
Lecture 2 Tools and materials you'll need
Section 2: Preparing Cake Ingredients
Lecture 3 How to choose fresh eggs
Lecture 4 Preparing cake ingredients
Lecture 5 Butter or margarine
Lecture 6 Tips and tricks
Section 3: Mixing the Cake
Lecture 7 Preparing cake pans
Lecture 8 Converting recipes
Lecture 9 Baking cakes
Lecture 10 Turning cake out
Lecture 11 Troubleshooting
Section 4: Preparing Cake Layers
Lecture 12 Strawberry jam recipe
Lecture 13 Fill and stack cake layers
Lecture 14 Cutting and storing the cake
Lecture 15 Key points
Home bakers who like baking and want something new to taste for their home business birthday cake.,Anyone who wants to learn a famous, authentic, and traditional cake from Indonesia. Suitable for Teatime, Small gifts etc.,Indonesian people who live abroad want to sell this cake as a home business.
rapidgator.net
:
uploadgig.com
:
nitroflare.com
: