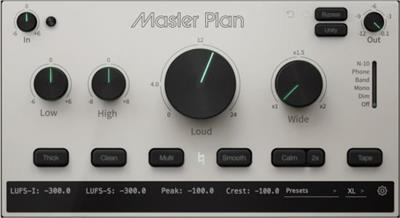 Musik Hack Master Plan v1.0.17
MOCHA | VST3 AAX | 15.9 MB
Master Plan is a professional audio mastering workflow that gets you release-ready masters with simple controls: Crystal clear loudness, rich, analog saturation, phase-coherent imaging, physical tape emulation, and extra tools to fix and monitor your mix.
MASTER FASTER
Powerful mastering packed into a fast workflow
Master Plan was made to mimic the painstaking steps taken by professional mastering engineers to provide polished, release ready masters.
Replace the endless amount of plugins on your master channel with one powerful tool.
HOT AS THE TOP 100
Algorithmically superior loudness
Master Plan's loud knob is a unique marriage of a clipper and limiter.
The loudness circuit can often add +4dB to a track without audible distortion.
It reacts to unique parameters in your mix, giving you total control of the algorithm's risk tolerance.
PLAY WITHOUT FEAR
Professionally-tuned ranges
We made the tough decisions for you so you can focus on the ones that matter.
Every control in Master Plan was carefully calibrated to ranges that won't mess with your mix.
Enjoy the ability to push the controls wherever you want without damaging your mix.
MONO-COMPATIBLE MIXES
Natural, dimensional width
Our critically acclaimed Wide knob increases the stereo depth and ambience while maintaining phase coherence.
Crank the wide knob up and listen to your mix surround you, give it just a touch to add some breathing room.
KEEP CREATIVE CONTROL
Beautiful subtlety that professionals charge for
Simplicity doesn't come at the expense of creative control: make anything from a clean, loud mix to a warm, vibey record.
Many AI solutions and single-knob mastering plugins add audible distortion or impact the overall vibe of the track.
Master Plan's subtle changes won't ruin your mix - turn on Unity and hear for yourself!
SHATTER CREATIVE BLOCKS
Curated presets
Custom presets are designed by Stan Greene as a quick option to finish a project.
Choose from True Peak and Loud preset categories based on the project, client, or your own personal philosophy.
Save your own presets for later use.
UNTOUCHABLE SOUND
Loved by professionals
Tracks mastered with Master Plan are consistently chosen by major-label records.
Master Plan has been lauded for its musicality and is used across all kinds of genres and projects.
Check out our testimonials and see what our users think!
Whats new in this version
Official site does not provide any info about changes in this version.
System Requirements
Windows 10 or newer
Homepage
https://www.musikhack.com/products/masterplan/
Download linkrapidgator.net
:
uploadgig.com
:
nitroflare.com
: