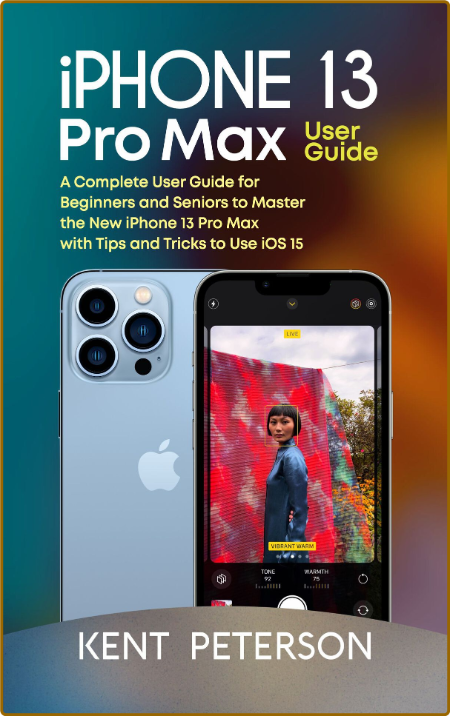 Iphone 13 Pro Max User Guide - A Complete User Guide for Beginners and Seniors to Master
epub | 25.02 MB | English | Isbn:‎ 979-8490449164 | Author: Peterson, Kent | Year: 2021


Description
:
The iPhone 13 Pro Max has a 6-core CPU with two performance cores and four energy-efficient cores, which means it can handle information faster than any other smartphone. Graphics, on the other hand, features a 5-core GPU that is 50% speedier than the competition, delivering exceptional graphics performance ever seen in an iPhone. Particularly in video apps and graphics games, it's a profoundly immersive experience. When you are using an iPhone for the first time, you will need a good idea of how your iPhone works, and how to use it.
This user guide is an excellent option to gain the beginner to advanced knowledge about your iPhone 13 Pro Max. In short, it is a great guide to help you use your iPhone and get familiar with it. It contains a lot of information about your iPhone, covers everything related to your iPhone, starting from setting it up, accessing apps, accessing settings, connecting your iPhone with iCloud, using the phone's features. This Guidebook offers users the best convenience and power in one tiny package by giving tutorials on more topics that will help you navigate the iPhone 13 Pro Max seamlessly.
Here are some Topics covered in this Guidebook that will help you Master the new Apple iPhone 13 Pro Max:

New Features on the iPhone 13 Pro Max: Display

Design Changes

A15 Bionic Processor

Device Setup

Using Quick start to Transfer Data

Using iCloud to Transfer Data

Data Transfer from Your Old iPhone To a New One

Data Transfer from Android to iPhone

Siri Setup

Adjusting Siri's Way of Replying

What is Display Zoom?

How to Use your Device for Dictating Text

How to Magnify Text

Measurement with iPhone

Setting Up the Home Screen

What Is True Tone? How to Use it

Using your iPhone 13 Pro Max as Hotspot

Using Gestures

Screen Brightness Adjustment

Activating the Night Shift

Setting Up the Control Center

Using the Contacts App

Switching to Low Power Mode

Using the Sound Recognition Feature

Performing Back Tap Actions

Optimization of Battery Charging

All you Need to Know About DND

Fake Eye Contact on FaceTime

Adding Widgets to your Home Screen

How to Hide your Pictures on iPhone 13 Pro Max

Taking Pictures

Using the Portrait Mode

Using the Night Mode

Working with Pano Pictures

How to use Camera Parameters

How to do a Live Photo

Burst Shot

Slow-Motion Video Recording

Scanning QR Code with your Camera

Doing a QuickTake Video

Doing a Time-Lapse Video

Using the Camera Format

How to Block Pop-ups

Hiding and Showing the Bookmark Bar

Hiding Ads on your Browser

Checking your Browsing History

Adjust Web Display Settings

Adding Webpages as Favorite

Adding Credit Cards to Safari

Setting up Apple Pay

Adding Debit or Credit Card Via Apple Pay

Utilizing Apple Pay while Shopping

Taking Screenshot

Using the Silent Mode

Time and Date Setup

Renaming your Device

Language and Region Setup

Email Account Setup

Creating a Screen Recording

Family Sharing, how it's Setup

Setting Up Apple Cash

iOS 15 Tips and Tricks

And many more..

This is just a few of what is contained in this User Manual, and you can Download FREE with Kindle Unlimited
So what are you waiting for? Scroll up and Click the Orange - BUY NOW WITH 1-CLICK BUTTON- on the top right corner and Download Now!!! You won't regret you did
See you inside!!!
Category:
ISDN Networking, Electronic Sensors, Mainframes & Minicomputers
Download from
RapidGator
Download from
DDownload
Download from
NitroFlare