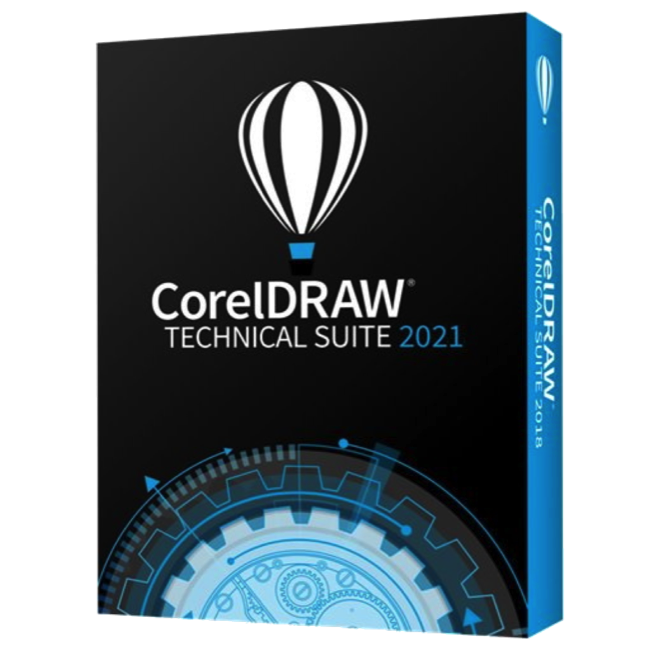 CorelDRAW Technical Suite 2021 23.5.0.506 (x64) + Extras | 8.88 GB
Design and technical illustration software
• Integrated suite of professional-grade applications
• Dedicated design and illustration tools
• Unrivaled file format compatibility • Precisely aligned with
current industry standards
The product is available in English, Russian, French and German.
Details are important :
Push the boundaries of visual communication with CorelDRAW® Technical Suite 2021, a comprehensive suite of applications for creating highly informative technical design projects and supporting documentation.
What is the advantage of CorelDRAW Technical Suite 2021?
1. A comprehensive package of applications for the development of materials for visual technical communication
From high-precision technical illustrations (Corel DESIGNER) and memorable marketing materials (CorelDRAW) to screenshots (CAPTURE) and edited photos for use in documentation (Corel PHOTO-PAINT), the suite is equipped with a variety of applications. The web application CorelDRAW.app, through which a collaborative workflow is implemented, can significantly optimize the collection of feedback, as well as the review, editing and approval of design materials.
2. Tools for the development of graphically rich technical design projects
Powerful, specialized design tools for developing technical illustrations ensure a high level of efficiency and accuracy when calculating parameters, designing axonometric drawings, and creating detailed leaders. Shape projection tools such as Carve, Socket, Cylinder, and Prism help you increase the level of detail in technical illustrations.
3. Exact compliance with modern industry standards
Comprehensive support for industry standards for the publication of technical documents ensures compliance with various standardized systems. Support for the translation memory system (TMS) allows you to create documents for further distribution of materials to a wide audience around the world. The program provides publishing capabilities to S1000D (including Release 5.0) and ATA iSpec 2200 (IETP compliant). Also presented are tools for developing technical communication projects with support for 3D PDF and PDF / A.
4. Re-profiling of key assets
The optional XVL Studio 3D CAD Corel Edition add-on for working with professional 3D CAD assembly formats, as well as the integrated XVL Studio Corel Edition solution provide tools for repurposing 3D models. An efficient 3D rendering workflow enables you to insert 3D models as linked or embedded objects into Corel DESIGNER illustration files for quick access, exchange and customization.
What's in the package?
CorelDRAW® Technical Suite 2021 has a rich collection of universal apps that lets you create detailed technical documentation, how-tos, manuals, reference books, and more.
Corel DESIGNER Powerful tools ensure authenticity and accuracy in any technical illustration.
CorelDRAW A complete range of vector illustration and page layout tools.
Corel PHOTO-PAINT The powerful photo-editing features of Corel PHOTO-PAINT and an integrated workflow with CorelDRAW help you realize the full potential of your photos.
XVL Studio Corel Edition Add context to your technical projects by using 3D projections and models in your illustrations.
CorelDRAW.app You can now work remotely. To access your projects, you just need to log into your CorelDRAW.app account.
Corel Font Manager 2020 Managing the font library and solving the problem of organizing, as well as the ability to use fonts without having to install them on a computer.
AfterShot 3 HDR Professional tools for non-destructive correction and enhancement of photos in RAW and JPEG formats, as well as tools for creating images with high dynamic range (HDR).
CorelDRAW.app for iPad The iPad app is perfect for both collaborative reviewing and creating projects away from the workplace.
CAPTURE ™ Screen Capture
Year of issue : 2021
Version : 23.5.0.506
Developer : Corel Corporation
Bit depth : 64bit
Interface language : Multilingual (Russian is present)
Tablet : present
Distribution time : before the first 3-5 downloads appear
System requirements :
• Windows 11, Windows 10 * (64 bit) with the latest service packs
• Intel Core i3 / 5/7/9 or AMD Ryzen 3/5/7/9 / Threadripper, EPYC
• OpenCL 1.2 compatible graphics card with 3 + GB VRAM
• 4 GB of RAM (8+ GB recommended)
• 9 GB of free hard disk space for applications and installation files
• Mouse, tablet or multi-touch screen
• Monitor resolution 1280 x 720 @ 100% (96 dpi)
* A web connection is required to activate CorelDRAW Technical Suite and access online content and certain software features and components.
PLEASE SUPPORT ME BY CLICK ONE OF MY LINKS IF YOU WANT BUYING OR EXTENDING YOUR ACCOUNT
CorelDRAW Technical Suite 2021 Extra
https://nitro.download/view/3F851B533DFE611/CorelDRAW_Technical_Suite_2021_Extras.part1.rar
https://nitro.download/view/455AC3D90BDF362/CorelDRAW_Technical_Suite_2021_Extras.part2.rar
https://nitro.download/view/0F033D86C57DE21/CorelDRAW_Technical_Suite_2021_Extras.part3.rar
https://nitro.download/view/97F50748BF861AB/CorelDRAW_Technical_Suite_2021_Extras.part4.rar
https://nitro.download/view/FAA617143168B3F/CorelDRAW_Technical_Suite_2021_Extras.part5.rar
https://nitro.download/view/CB0F46086140014/CorelDRAW_Technical_Suite_2021_Extras.part6.rar

https://rapidgator.net/file/0bd6a941632ec4486324d71d600f67ab/CorelDRAW_Technical_Suite_2021_Extras.part1.rar.html
https://rapidgator.net/file/f79b74f31d84916291e7d9cc1139b292/CorelDRAW_Technical_Suite_2021_Extras.part2.rar.html
https://rapidgator.net/file/b221d86bc81150f57b69f0f6a4d50ef5/CorelDRAW_Technical_Suite_2021_Extras.part3.rar.html
https://rapidgator.net/file/4ebddc7a3eb6d5cab006de6a595119cd/CorelDRAW_Technical_Suite_2021_Extras.part4.rar.html
https://rapidgator.net/file/2f16aef49ab441bd9dcdd5cf2be334c8/CorelDRAW_Technical_Suite_2021_Extras.part5.rar.html
https://rapidgator.net/file/407f2d99c73e86d9f1bbebe94b7aa126/CorelDRAW_Technical_Suite_2021_Extras.part6.rar.html

https://uploadgig.com/file/download/f95904139fcEfD9b/CorelDRAW%20Technical%20Suite%202021%20Extras.part1.rar
https://uploadgig.com/file/download/70513fa49961147a/CorelDRAW%20Technical%20Suite%202021%20Extras.part2.rar
https://uploadgig.com/file/download/DcE02d5b04af72a5/CorelDRAW%20Technical%20Suite%202021%20Extras.part3.rar
https://uploadgig.com/file/download/a6dA3bbC857DE9b0/CorelDRAW%20Technical%20Suite%202021%20Extras.part4.rar
https://uploadgig.com/file/download/75363703fde16dcf/CorelDRAW%20Technical%20Suite%202021%20Extras.part5.rar
https://uploadgig.com/file/download/931E8353eE342dd4/CorelDRAW%20Technical%20Suite%202021%20Extras.part6.rar

CorelDRAW Technical Suite 2021 23.5.0.506 (x64)
https://nitro.download/view/57A93C87C6B73FE/CorelDRAW_Technical_Suite_2021_v23.5.0.506_x64_Corporate.part1.rar
https://nitro.download/view/4BE6477EA8CC8D5/CorelDRAW_Technical_Suite_2021_v23.5.0.506_x64_Corporate.part2.rar
https://nitro.download/view/8CDA33121CA8D7B/CorelDRAW_Technical_Suite_2021_v23.5.0.506_x64_Corporate.part3.rar
https://nitro.download/view/039461DF7267F6C/CorelDRAW_Technical_Suite_2021_v23.5.0.506_x64_Corporate.part4.rar

https://rapidgator.net/file/50e3ee84999e5602aca2feb082c7d5b1/CorelDRAW_Technical_Suite_2021_v23.5.0.506_x64_Corporate.part1.rar.html
https://rapidgator.net/file/523a06423022d852ab004a4773cf5cd0/CorelDRAW_Technical_Suite_2021_v23.5.0.506_x64_Corporate.part2.rar.html
https://rapidgator.net/file/02b6bdfb2ad35185ab82af9f5eeb8580/CorelDRAW_Technical_Suite_2021_v23.5.0.506_x64_Corporate.part3.rar.html
https://rapidgator.net/file/3ad8061ad13c6624c0533a518718989d/CorelDRAW_Technical_Suite_2021_v23.5.0.506_x64_Corporate.part4.rar.html

https://uploadgig.com/file/download/db647dBA26b5382d/CorelDRAW%20Technical%20Suite%202021%20v23.5.0.506%20x64%20Corporate.part1.rar
https://uploadgig.com/file/download/c699680992f67d8d/CorelDRAW%20Technical%20Suite%202021%20v23.5.0.506%20x64%20Corporate.part2.rar
https://uploadgig.com/file/download/2a8c167E67de1e7c/CorelDRAW%20Technical%20Suite%202021%20v23.5.0.506%20x64%20Corporate.part3.rar
https://uploadgig.com/file/download/5D3b323acB4af5f6/CorelDRAW%20Technical%20Suite%202021%20v23.5.0.506%20x64%20Corporate.part4.rar