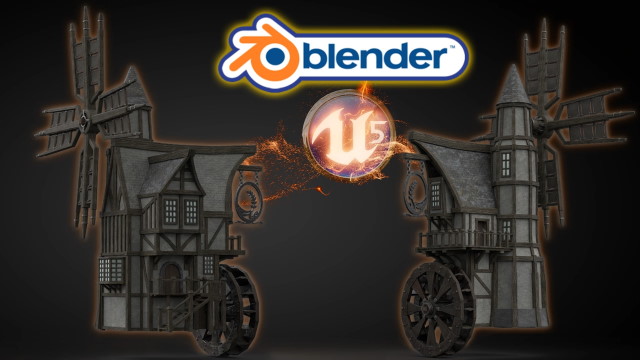 Blender to Unreal Engine 5 - Medieval Windmill | 20.88 GB
Would you like to learn how to model a windmill reminiscent of medieval times and breathe life into that fantasy by importing it into a game engine?
'Blender to Unreal Engine 5' will see you creating an intricate medieval asset requiring mechanical knowledge full of life through 3D animation.
This course will give you access to just over 21 hours of 3D art.
Learn how to build an intricate medieval windmill and watermill hybrid in 107 lessons.
This course will see you learn all the techniques pros use and how they use them. Unreal Engine integration will also be a central part of this course's learning objectives.
01-introduction___blender_to_unreal_engine_5.mkv
02-blender_to_unreal_engine_course_layout.mkv
03-getting_the_basics_right.mkv
04-working_with_references.mkv
05-starting_the_windmill_greybox.mkv
06-what_are_seams_and_sharps.mkv
07-being_careful_with_extrude.mkv
08-dimensions_and_grounding_our_greybox.mkv
09-finishing_the_greybox.mkv
10-the_importance_of_resetting_transformations.mkv
11-working_with_textures_and_nodes.mkv
12-creating_our_first_material.mkv
13-working_with_booleans.mkv
14-solidifying_2d_planes.mkv
15-a_creative_way_to_create_wooden_supports.mkv
16-working_with_different_transforms.mkv
17-creating_realistic_wood_joints.mkv
18-creating_unique_uvs_the_easy_way.mkv
19-hdri_and_the_eevee_renderer.mkv
20-working_with_stone.mkv
21-altering_shaders_in_blender.mkv
22-creating_windows_and_projecting_uvs.mkv
23-lead_and_pane_creation.mkv
24-applying_glass_to_our_windows.mkv
25-planning_out_the_windmill_arms.mkv
26-laying_out_the_arm_struts.mkv
27-windmill_arms_prep_for_materials.mkv
28-working_with_cloth_and_proportional_editing.mkv
29-the_amazing_torus.mkv
30-creating_realist_cloth_sail_mesh.mkv
31-creating_holes_and_links.mkv
32-working_with_mirrors.mkv
33-engineering_the_turning_mechanism.mkv
34-what_is_structurally_sound.mkv
35-testing_complex_seams.mkv
36-finishing_the_windmill_arms.mkv
37-starting_the_main_roof.mkv
38-creating_the_wooden_sloping_supports.mkv
39-adding_materials_to_the_main_roof.mkv
40-realism_with_roof_tiles.mkv
41-lots_of_supports_needed.mkv
42-fixing_mesh_issues_along_the_way.mkv
43-finishing_the_main_small_support_mesh.mkv
44-finishing_the_main_roof.mkv
45-taking_stock_of_how_to_create_something.mkv
46-working_on_our_smaller_roof.mkv
47-finishing_our_small_roof.mkv
48-refining_the_greybox.mkv
49-working_with_svgs.mkv
50-converting_curves_to_mesh.mkv
51-finishing_the_sign.mkv
52-creating_the_sign_links.mkv
53-medieval_atmosphere_with_wood.mkv
54-creating_the_main_door_place_holder.mkv
55-creating_a_door_alcove.mkv
56-speeding_up_our_workflow.mkv
57-creating_the_small_window_extension.mkv
58-working_out_our_walkway_placement.mkv
59-finishing_the_window__extension.mkv
60-working_with_complex_meshes.mkv
61-realistic_support_for_our_extension.mkv
62-increasing_efficiency_in_modelling.mkv
63-how_to_use_edge_length.mkv
64-increasing_the_complexity.mkv
65-using_average_island_scale.mkv
66-creating_the_balcony.mkv
67-creating_the_balcony_supports.mkv
68-easy_ways_to_fix_mesh_problems.mkv
69-starting_our_water_wheel_build.mkv
70-forward_thinking_with_seams.mkv
71-creating_simple_bolts.mkv
72-finishing_the_outside_wheel.mkv
73-creating_the_centre_pillar.mkv
74-creating_the_stone_opening.mkv
75-how_to_create_arched_supports.mkv
76-finishing_the_balcony_supports.mkv
77-creating_doors_the_easy_way.mkv
78-creating_the_stone_arched_door.mkv
79-handles_from_curves.mkv
80-finishing_the_door_handles.mkv
81-starting_the_main_ramp.mkv
82-creating_the_base.mkv
83-working_with_arrays.mkv
84-building_a_complex_support_system.mkv
85-creating_the_supporting_posts.mkv
86-bringing_it_all_together.mkv
87-fine_tuning_the_uv_maps.mkv
88-finishing_the_main_ramp_seams.mkv
89-finishing_the_side_of_the_windmill.mkv
90-laying_out_the_bay_window_greybox.mkv
91-applying_the_stone_wall_bottom.mkv
92-critically_analysing_our_build.mkv
93-starting_the_bay_window_build.mkv
94-lots_of_glass_issues.mkv
95-working_on_the_bay_window_frame.mkv
96-top_and_bottom_of_our_bay_window.mkv
97-completing_the_windmill_build.mkv
98-creating_a_base_for_our_windmill.mkv
99-setting_up_our_portfolio_render.mkv
100-eevee_and_cycles_rendering.mkv
101-welcome_to_animation.mkv
102-the_animation_workflow.mkv
103-weighting_bones_and_keyframes.mkv
104-setting_up_our_animations.mkv
105-welcome_to_unreal_engine_5.mkv
106-creating_materials_in_unreal_engine_5.mkv
107-applying_materials_and_testing.mkv
108-final_lesson_a_realistic_game_asset.mkv
https://www.skillshare.com/classes/Blender-to-Unreal-Engine-5/807153981
PLEASE SUPPORT ME BY CLICK ONE OF MY LINKS IF YOU WANT BUYING OR EXTENDING YOUR ACCOUNT
https://nitro.download/view/D3E452EDDC0C46B/Skillshare_-_Blender_to_Unreal_Engine_5_-_Medieval_Windmill_by_3D_Tudor_Neil_Bettison_%282021%29.part01.rar
https://nitro.download/view/07A4550CFEAAF8E/Skillshare_-_Blender_to_Unreal_Engine_5_-_Medieval_Windmill_by_3D_Tudor_Neil_Bettison_%282021%29.part02.rar
https://nitro.download/view/E3BC717336A34BA/Skillshare_-_Blender_to_Unreal_Engine_5_-_Medieval_Windmill_by_3D_Tudor_Neil_Bettison_%282021%29.part03.rar
https://nitro.download/view/FF82B71C70581E9/Skillshare_-_Blender_to_Unreal_Engine_5_-_Medieval_Windmill_by_3D_Tudor_Neil_Bettison_%282021%29.part04.rar
https://nitro.download/view/4B9ED31E77694C6/Skillshare_-_Blender_to_Unreal_Engine_5_-_Medieval_Windmill_by_3D_Tudor_Neil_Bettison_%282021%29.part05.rar
https://nitro.download/view/EA172E9F7F16745/Skillshare_-_Blender_to_Unreal_Engine_5_-_Medieval_Windmill_by_3D_Tudor_Neil_Bettison_%282021%29.part06.rar
https://nitro.download/view/F4396ECC5C3FD99/Skillshare_-_Blender_to_Unreal_Engine_5_-_Medieval_Windmill_by_3D_Tudor_Neil_Bettison_%282021%29.part07.rar
https://nitro.download/view/A76B158FE078F77/Skillshare_-_Blender_to_Unreal_Engine_5_-_Medieval_Windmill_by_3D_Tudor_Neil_Bettison_%282021%29.part08.rar
https://nitro.download/view/84D48F07665F83A/Skillshare_-_Blender_to_Unreal_Engine_5_-_Medieval_Windmill_by_3D_Tudor_Neil_Bettison_%282021%29.part09.rar
https://nitro.download/view/71D3FF8A650FC5A/Skillshare_-_Blender_to_Unreal_Engine_5_-_Medieval_Windmill_by_3D_Tudor_Neil_Bettison_%282021%29.part10.rar
https://nitro.download/view/3E09694B9B9F01F/Skillshare_-_Blender_to_Unreal_Engine_5_-_Medieval_Windmill_by_3D_Tudor_Neil_Bettison_%282021%29.part11.rar
https://nitro.download/view/E859066CBDF6E41/Skillshare_-_Blender_to_Unreal_Engine_5_-_Medieval_Windmill_by_3D_Tudor_Neil_Bettison_%282021%29.part12.rar
https://nitro.download/view/AF93ABF89A99D0A/Skillshare_-_Blender_to_Unreal_Engine_5_-_Medieval_Windmill_by_3D_Tudor_Neil_Bettison_%282021%29.part13.rar
https://nitro.download/view/AC373D3DB6CCCB1/Skillshare_-_Blender_to_Unreal_Engine_5_-_Medieval_Windmill_by_3D_Tudor_Neil_Bettison_%282021%29.part14.rar
https://nitro.download/view/87B6B715A76E62A/Skillshare_-_Blender_to_Unreal_Engine_5_-_Medieval_Windmill_by_3D_Tudor_Neil_Bettison_%282021%29.part15.rar
https://nitro.download/view/DE44CA73A72C075/Skillshare_-_Blender_to_Unreal_Engine_5_-_Medieval_Windmill_by_3D_Tudor_Neil_Bettison_%282021%29.part16.rar
https://nitro.download/view/2C96ECE07F8800D/Skillshare_-_Blender_to_Unreal_Engine_5_-_Medieval_Windmill_by_3D_Tudor_Neil_Bettison_%282021%29.part17.rar
https://nitro.download/view/45EE4BB6C0E2149/Skillshare_-_Blender_to_Unreal_Engine_5_-_Medieval_Windmill_by_3D_Tudor_Neil_Bettison_%282021%29.part18.rar
https://nitro.download/view/E94AC320937712C/Skillshare_-_Blender_to_Unreal_Engine_5_-_Medieval_Windmill_by_3D_Tudor_Neil_Bettison_%282021%29.part19.rar
https://nitro.download/view/4DE7FAACF84E8DD/Skillshare_-_Blender_to_Unreal_Engine_5_-_Medieval_Windmill_by_3D_Tudor_Neil_Bettison_%282021%29.part20.rar
https://nitro.download/view/099D76991168753/Skillshare_-_Blender_to_Unreal_Engine_5_-_Medieval_Windmill_by_3D_Tudor_Neil_Bettison_%282021%29.part21.rar

https://rapidgator.net/file/08582978546fe6e062d950dc1c2f9755/Skillshare_-_Blender_to_Unreal_Engine_5_-_Medieval_Windmill_by_3D_Tudor_Neil_Bettison_(2021).part01.rar.html
https://rapidgator.net/file/96a7eb50e98661e459f70f8264aa475e/Skillshare_-_Blender_to_Unreal_Engine_5_-_Medieval_Windmill_by_3D_Tudor_Neil_Bettison_(2021).part02.rar.html
https://rapidgator.net/file/3c39c01a39b922cefb92125674842238/Skillshare_-_Blender_to_Unreal_Engine_5_-_Medieval_Windmill_by_3D_Tudor_Neil_Bettison_(2021).part03.rar.html
https://rapidgator.net/file/b9e1f4326324c4a252bb35a3d2467801/Skillshare_-_Blender_to_Unreal_Engine_5_-_Medieval_Windmill_by_3D_Tudor_Neil_Bettison_(2021).part04.rar.html
https://rapidgator.net/file/55ee0b6b4104f968ca6c056bc23ea321/Skillshare_-_Blender_to_Unreal_Engine_5_-_Medieval_Windmill_by_3D_Tudor_Neil_Bettison_(2021).part05.rar.html
https://rapidgator.net/file/aa7bceb9e658633741c30b656af3d497/Skillshare_-_Blender_to_Unreal_Engine_5_-_Medieval_Windmill_by_3D_Tudor_Neil_Bettison_(2021).part06.rar.html
https://rapidgator.net/file/fd2660c7e36af20b45fdf68e6cde450a/Skillshare_-_Blender_to_Unreal_Engine_5_-_Medieval_Windmill_by_3D_Tudor_Neil_Bettison_(2021).part07.rar.html
https://rapidgator.net/file/d4a4e3f888a065e8f289f936b40098a5/Skillshare_-_Blender_to_Unreal_Engine_5_-_Medieval_Windmill_by_3D_Tudor_Neil_Bettison_(2021).part08.rar.html
https://rapidgator.net/file/7f86c4e10f48e4453b3ce5ac281de2e9/Skillshare_-_Blender_to_Unreal_Engine_5_-_Medieval_Windmill_by_3D_Tudor_Neil_Bettison_(2021).part09.rar.html
https://rapidgator.net/file/ce4f508b2cd95b4cd60e9771f68b658e/Skillshare_-_Blender_to_Unreal_Engine_5_-_Medieval_Windmill_by_3D_Tudor_Neil_Bettison_(2021).part10.rar.html
https://rapidgator.net/file/d8d57d59e7e99e8ed77376502ec4b293/Skillshare_-_Blender_to_Unreal_Engine_5_-_Medieval_Windmill_by_3D_Tudor_Neil_Bettison_(2021).part11.rar.html
https://rapidgator.net/file/40e76a5ec3750d609c1e4e86bbfdc404/Skillshare_-_Blender_to_Unreal_Engine_5_-_Medieval_Windmill_by_3D_Tudor_Neil_Bettison_(2021).part12.rar.html
https://rapidgator.net/file/79cb43aea531893b625c2af964a74df9/Skillshare_-_Blender_to_Unreal_Engine_5_-_Medieval_Windmill_by_3D_Tudor_Neil_Bettison_(2021).part13.rar.html
https://rapidgator.net/file/ce3b9c67b5662df51908b3c53df5eed6/Skillshare_-_Blender_to_Unreal_Engine_5_-_Medieval_Windmill_by_3D_Tudor_Neil_Bettison_(2021).part14.rar.html
https://rapidgator.net/file/befc691f9301da0117d7cd73d74505e3/Skillshare_-_Blender_to_Unreal_Engine_5_-_Medieval_Windmill_by_3D_Tudor_Neil_Bettison_(2021).part15.rar.html
https://rapidgator.net/file/1715bd412681b6a868c845a2917d6e0f/Skillshare_-_Blender_to_Unreal_Engine_5_-_Medieval_Windmill_by_3D_Tudor_Neil_Bettison_(2021).part16.rar.html
https://rapidgator.net/file/4f1d6b349b0fe16d45dd25b9a177908e/Skillshare_-_Blender_to_Unreal_Engine_5_-_Medieval_Windmill_by_3D_Tudor_Neil_Bettison_(2021).part17.rar.html
https://rapidgator.net/file/2b8abaffa9d75fd7e93ff0116ca76d4c/Skillshare_-_Blender_to_Unreal_Engine_5_-_Medieval_Windmill_by_3D_Tudor_Neil_Bettison_(2021).part18.rar.html
https://rapidgator.net/file/14ba849235398cba7d3f7a7f898d2d92/Skillshare_-_Blender_to_Unreal_Engine_5_-_Medieval_Windmill_by_3D_Tudor_Neil_Bettison_(2021).part19.rar.html
https://rapidgator.net/file/3bd7d14f948f5c89973c9635d8a3c363/Skillshare_-_Blender_to_Unreal_Engine_5_-_Medieval_Windmill_by_3D_Tudor_Neil_Bettison_(2021).part20.rar.html
https://rapidgator.net/file/9e15a6b63d8d14b65b87b1c6471d02d6/Skillshare_-_Blender_to_Unreal_Engine_5_-_Medieval_Windmill_by_3D_Tudor_Neil_Bettison_(2021).part21.rar.html

https://uploadgig.com/file/download/D7f40c9514B04525/Skillshare%20-%20Blender%20to%20Unreal%20Engine%205%20-%20Medieval%20Windmill%20by%203D%20Tudor%20Neil%20Bettison%202021.part01.rar
https://uploadgig.com/file/download/982B71fbb94d14E6/Skillshare%20-%20Blender%20to%20Unreal%20Engine%205%20-%20Medieval%20Windmill%20by%203D%20Tudor%20Neil%20Bettison%202021.part02.rar
https://uploadgig.com/file/download/008C642B102a299c/Skillshare%20-%20Blender%20to%20Unreal%20Engine%205%20-%20Medieval%20Windmill%20by%203D%20Tudor%20Neil%20Bettison%202021.part03.rar
https://uploadgig.com/file/download/Aeb83d6c0a4f48Cc/Skillshare%20-%20Blender%20to%20Unreal%20Engine%205%20-%20Medieval%20Windmill%20by%203D%20Tudor%20Neil%20Bettison%202021.part04.rar
https://uploadgig.com/file/download/837742d0748E34e7/Skillshare%20-%20Blender%20to%20Unreal%20Engine%205%20-%20Medieval%20Windmill%20by%203D%20Tudor%20Neil%20Bettison%202021.part05.rar
https://uploadgig.com/file/download/9538d7647246Ad85/Skillshare%20-%20Blender%20to%20Unreal%20Engine%205%20-%20Medieval%20Windmill%20by%203D%20Tudor%20Neil%20Bettison%202021.part06.rar
https://uploadgig.com/file/download/6ae65376564C2e17/Skillshare%20-%20Blender%20to%20Unreal%20Engine%205%20-%20Medieval%20Windmill%20by%203D%20Tudor%20Neil%20Bettison%202021.part07.rar
https://uploadgig.com/file/download/ebc996869ed54509/Skillshare%20-%20Blender%20to%20Unreal%20Engine%205%20-%20Medieval%20Windmill%20by%203D%20Tudor%20Neil%20Bettison%202021.part08.rar
https://uploadgig.com/file/download/81C99cf5C9EC204B/Skillshare%20-%20Blender%20to%20Unreal%20Engine%205%20-%20Medieval%20Windmill%20by%203D%20Tudor%20Neil%20Bettison%202021.part09.rar
https://uploadgig.com/file/download/9334634cb4c40Ba3/Skillshare%20-%20Blender%20to%20Unreal%20Engine%205%20-%20Medieval%20Windmill%20by%203D%20Tudor%20Neil%20Bettison%202021.part10.rar
https://uploadgig.com/file/download/b3dcB45Aa28db249/Skillshare%20-%20Blender%20to%20Unreal%20Engine%205%20-%20Medieval%20Windmill%20by%203D%20Tudor%20Neil%20Bettison%202021.part11.rar
https://uploadgig.com/file/download/cb7Ec8199b727a58/Skillshare%20-%20Blender%20to%20Unreal%20Engine%205%20-%20Medieval%20Windmill%20by%203D%20Tudor%20Neil%20Bettison%202021.part12.rar
https://uploadgig.com/file/download/6E523B287ed4b1D8/Skillshare%20-%20Blender%20to%20Unreal%20Engine%205%20-%20Medieval%20Windmill%20by%203D%20Tudor%20Neil%20Bettison%202021.part13.rar
https://uploadgig.com/file/download/f831069bde15A13d/Skillshare%20-%20Blender%20to%20Unreal%20Engine%205%20-%20Medieval%20Windmill%20by%203D%20Tudor%20Neil%20Bettison%202021.part14.rar
https://uploadgig.com/file/download/fdF995887ddFA53E/Skillshare%20-%20Blender%20to%20Unreal%20Engine%205%20-%20Medieval%20Windmill%20by%203D%20Tudor%20Neil%20Bettison%202021.part15.rar
https://uploadgig.com/file/download/1bdA2B03CA449b43/Skillshare%20-%20Blender%20to%20Unreal%20Engine%205%20-%20Medieval%20Windmill%20by%203D%20Tudor%20Neil%20Bettison%202021.part16.rar
https://uploadgig.com/file/download/71cefb3ddC3931e0/Skillshare%20-%20Blender%20to%20Unreal%20Engine%205%20-%20Medieval%20Windmill%20by%203D%20Tudor%20Neil%20Bettison%202021.part17.rar
https://uploadgig.com/file/download/cf54bbdE94e9c808/Skillshare%20-%20Blender%20to%20Unreal%20Engine%205%20-%20Medieval%20Windmill%20by%203D%20Tudor%20Neil%20Bettison%202021.part18.rar
https://uploadgig.com/file/download/d5c85F834578A733/Skillshare%20-%20Blender%20to%20Unreal%20Engine%205%20-%20Medieval%20Windmill%20by%203D%20Tudor%20Neil%20Bettison%202021.part19.rar
https://uploadgig.com/file/download/A1e462cEb806cF03/Skillshare%20-%20Blender%20to%20Unreal%20Engine%205%20-%20Medieval%20Windmill%20by%203D%20Tudor%20Neil%20Bettison%202021.part20.rar
https://uploadgig.com/file/download/c92CBc06Efdabc6b/Skillshare%20-%20Blender%20to%20Unreal%20Engine%205%20-%20Medieval%20Windmill%20by%203D%20Tudor%20Neil%20Bettison%202021.part21.rar