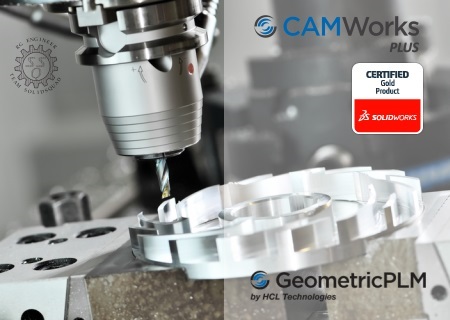 CAMWorks 2021 Plus SP1 | 1.7 Gb
The GeometricPLM development team is pleased to announce the availability of CAMWorks 2021 Plus SP1 build 2021/0812 (12-August-2021). Version PLUS comes packed with new enhancements and improvements which have been developed by considering the latest machining trends in the market.
What's New in CAMWorks 2021 Plus SP1
New - Functionality to display Tool Moves in User-Assigned Colors for various Toolpath Segments
Purpose: To provide the functionality to filter Mill and Turn tools/assemblies based on user-defined text strings
Resolved CPRs
1. CW-110035 CSR-17360 Assembly When part data is imported into an assembly, the operations import only the seed part and not all part instances.
2. CW-109905 CSR-17257 Toolpath For Prime Turning Finish operations, the Chuck/Fixture avoidance functionality provide din Advanced tab of Operation Parameters dialog box does not work.
3. CW-109845 CSR-17218 Operation For the specific Assembly file with Chamfer toolpath, when specific avoid allowance value is applied to the chamfer parameter and toolpath is regenerated, then SOLIDWORKS crashes.
4. CW-109529 Beta 57398 UIF When CAMWorks application is launched as an add-in within SOLIDWORKS, then the videos under Learn tab of the task pane begin to automatically play.
5. CW-109213 CSR-16919 Assembly For the specific Assembly file, when the Rebuild command is executed, the Setup direction gets flipped.
6. CW-109208 CSR-15263 Post When NC codes are generated for the specific Assembly file with Circular pattern, the value assigned to the "WORK_PLANE_Z_VEC_Z" variable is a negative value instead of positive value.
7. CW-109205 CSR-16901 Post For the customer specific assembly, the NC code generated contains negative Y Coordinate values for its third pattern in CW2021 SP2, CW2021 SP4 and CW2021Plus SP0 versions.
8. CW-109204 CSR-16916 Operation For the specific part file containing Multiaxis Mill operations, CAMWorks fails to generate toolpaths for 5 axis drilling operations when the operation parameters are copied from another Multiaxis operation.
9. CW-107509 CSR-16162 Help The description in CAMWorks Help documentation for defining Assembly Turn Chucks needs to be updated to include info on where the Coordinate System needs to be defined.
10. CW-104276 Beta 52656 UIF When the SOLIDWORKS display is set to "Perspective", you cannot pick a part or stock vertex from the graphics area for defining the part/stock origin of any Mill, Turn or MillTurn part.
11. CW-103086 --- Rebuild For the specific Assembly file, once the toolpaths are generated, CAMWorks keeps prompting a Rebuild command every time the user clicks the Save command. Moreover, after the assembly is closed and reopened, it is observed that the toolpaths didn't get saved.
12. CW-101689 CSR-13702 Simulation For the specific Mill part with an Upper Z Limit Offset value defined, on executing the Simulate Toolpath command, the simulation stops at the first Face Mill operation's last depth pass. An error message indicating that simulation cannot continue gets displayed.
13. CW-99146 CSR-12881 UIF In Czech language version of CAMWorks, few text strings present in the Roughing tab of Operation Parameters dialog box need to be corrected.
CAMWorks 2021 is the most advanced CAM software available, combining production-proven feature based CAM technology, automatic feature recognition, and rules based machining along with tolerance based machining to leverage MBD and PMI technology to automate Smart Manufacturing for CNC programming - paving the way to advanced digital manufacturing.
CAMWorks 2021 includes many enhancements to help you streamline your manufacturing process, from job setup to job completion, automating your manufacturing process setup. If you haven't had a chance to see the new feature list; sit down, grab a cup of coffee and take a look at what's new in CAMWorks 2021
Check out all the new features to help your manufacturing in CAMWorks 2021.
GeometricPLM by HCL Technologies a specialist in the domain of engineering solutions, services and technologies. Its portfolio of Global Engineering services, Product Lifecycle Management (PLM) solutions, Embedded System solutions, and Digital Technology solutions enables companies to formulate, implement, and execute global engineering and manufacturing strategies aimed at achieving greater efficiencies in the product realization lifecycle.
On April 1st 2016, Geometric got into an agreement with HCL Technologies to transfer of its business to HCL Tech by way of demerger, except for its 58% share in the joint venture with Dassault Systèmes (3DS) (3DPLM Software Solutions Limited (3DPLM)). The transition has become effective on March 2nd 2017, after seeking all statutory approvals.
Product: CAMWorks
Version: 2021 Plus SP1 build 2021/0812 (12-August-2021)
Supported Architectures: x64
Languages Supported: multilanguage
Size: 1.7 Gb
Link Download

Download Via UploadGig

https://uploadgig.com/file/download/b36bb7A33C58d0b1/CAMWorks.2021.Plus.SP1.build.20210812.x64.part1.rar
https://uploadgig.com/file/download/96432ec7f1945a1A/CAMWorks.2021.Plus.SP1.build.20210812.x64.part2.rar
https://uploadgig.com/file/download/5919dc666E1926A6/CAMWorks.2021.Plus.SP1.build.20210812.x64.part3.rar

Download Via Rapidgator

https://rapidgator.net/folder/6276527/CAMWorks2021PlusSP1build20210812.html

Extract files with WinRar 5 or Latest !