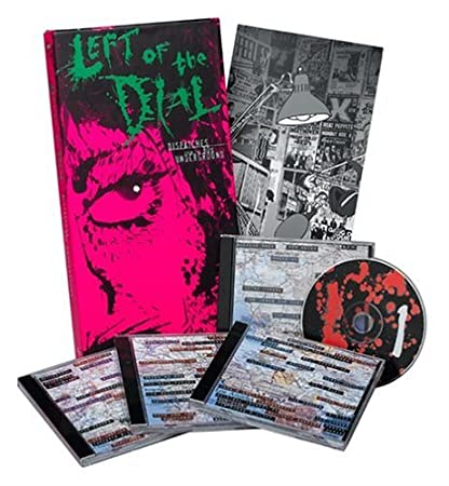 FLAC (tracks,cue,log,scans) / MP3 320 kbps + Scans | Alternative Rock, New Wave, Indie Rock, Industrial, Punk | 5h 11 min | 2.07 GB / 727 MB
In his notes for this passionately compiled box, producer Gary Stewart writes, "the diversity from the late-70s punk/new wave scene turned into a full-blown, variety-fueled, genre-busting orgy in the '80s...The music became, in the best sense of the words, more complex, more literate, a bit more serious, and as a result, made astrong impact on mainsteam rock culture." From funk punk to revisionist roots rock to hard-core to smart-ass clever pop-and every musical nook and cranny in-between-Left of the Dial presents many of the '80s' most important tracks. Savor the far more influential flip side of the "Where's the Beef" decade's musical output!
As a sequel to 2004's similarly packaged Rhino box No Thanks! The '70s Punk Rebellion, this four-disc set tackles the punk/indie/modern rock of the 80s with equal panache. Subtitled "Dispatches from the 80s Underground," these 82 non-chronological tracks play like a great college station from the later part of the decade. Encompassing a dizzyingly diverse musical palate, styles range from the artsy Southern twang of R.E.M., to the sugary pop of Aztec Camera, the blistering hardcore of Black Flag, the ghostly techno of Japan and the chilly, noir dance floor attack of New Order. And that's just on disc one.
Sure, there are some omissions, but the box does a remarkable job balancing more popular acts such as Red Hot Chili Peppers, the Cure and Echo & the Bunnymenwith cult faves like Green On Red and obscurities from the Lyres and the Three O'Clock . Even those who were radio fanatics during these years will likely find tracks they aren't familiar with, along with getting a flashback rush from those they are. A colorful 64 page book provides track-by-track background information as well as a handful of essays about the decade that approach the music from different perspectives. There are no public service announcements or aspiring DJ's to interrupt the flow and the remastered sound brings the music to life with crispness low powered FM radio could never rival. --Hal Horowitz
Disc 1
1. R.E.M. - Radio Free Europe (04:05)
2. The Jam - Going Underground (02:56)
3. The Cure - A Forest (04:54)
4. Dead Kennedys - Holiday In Cambodia (04:38)
5. The Passions - I'm In Love With A German Film Star (04:01)
6. The Replacements - I Will Dare (03:19)
7. Mission Of Burma - That's When I Reach For My Revolver (03:52)
8. X - Johnny Hit And Run Paulene (02:49)
9. The Jesus & Mary Chain - Just Like Honey (03:01)
10. Depeche Mode - Black Celebration (04:53)
11. The Dream Syndicate - Tell Me When It's Over (03:33)
12. Red Hot Chili Peppers - Hollywood (Africa) (05:03)
13. New Order - Temptation (05:43)
14. Japan - Ghosts (04:32)
15. Magazine - A Song From Under The Floorboards (04:11)
16. Aztec Camera - Oblivious (03:11)
17. Hüsker Dü - Don't Want To Know If You Are Lonely (03:32)
18. Black Flag - Rise Above (02:26)
19. Wall Of Voodoo - Back In Flesh (03:42)
20. The Go-Betweens - Cattle And Cane (03:59)
Disc 2
1. The Pretenders - Message Of Love (03:28)
2. Ultravox - Vienna (04:39)
3. Dinosaur Jr. - Freak Scene (03:37)
4. The Smiths - This Chag Man (02:43)
5. Ministry - Stigmata (05:44)
6. Lone Justice - Ways To Be Wicked (03:25)
7. Killing Joke - Wardance (03:48)
8. Orchestral Manoeuvres In The Dark - Enola Gay (03:30)
9. The English Beat - Mirror In The Bathroom (03:06)
10. The Raincoats - Fairytale In The Supermarket (02:59)
11. The Smithereens - Behind The Wall Of Sleep (03:22)
12. Minutemen - Political Song For Michael Jackson To Sing (01:31)
13. The Dead Milkmen - Punk Rock Girl (02:37)
14. Concrete Blonde - Still In Hollywood (03:45)
15. Joy Division - Love Will Tear Us Apart (03:27)
16. Violent Fs - Blister In The Sun (02:24)
17. Meat Puppets - Lake Of Fire (01:57)
18. The dB's - Amplifier (03:07)
19. Prefab Sprout - When Love Breaks Down (03:44)
20. The Cramps - Goo Goo Muck (03:05)
21. The Sisters Of Mercy - This Corrosion (04:29)
22. XTC - Senses Working Over (04:50)
Disc 3
1. Echo & The Bunnymen - The Cutter (03:53)
2. Bad Brains - Pay To Cum (01:26)
3. The Sugarcubes - Birthday (03:59)
4. Robyn Hitchcock & The Egyptians - Madonna Of The Wasps (03:06)
5. Faith No More - We Care A Lot (04:03)
6. Sonic Youth - Teen Age Riot (06:56)
7. Gang Of Four - To Hell With Poverty (04:59)
8. The Feelies - Fa Ce-La (02:01)
9. They Might Be Giants - Ana Ng (03:21)
10. The Chameleons - Swamp Thing (05:56)
11. Nick Cave & The Bad Seeds - The Mercy Seat (05:08)
12. Rain Parade - I Look Around (03:06)
13. The Psychedelic Furs - All That Money Wants (03:47)
14. The Church - Under The Milky Way (04:59)
15. Public Image Limited - Rise (06:18)
16. Love And Rockets - Kundalini Express (05:51)
17. Green On Red - Gravity Talks (02:38)
18. Throbbing Gristle - Adrenalin (03:55)
19. The Stone Roses - She Bangs The Drums (03:43)
Disc 4
1. Pixies - Monkey Gone To Heaven (02:56)
2. The The - Uncertain Smile (Original 7" Version) (04:54)
3. Bauhaus - Bela Lugosi's Dead (09:34)
4. Siouxsie & The Banshees - Christine (02:59)
5. Minor Threat - Straight Edge (00:46)
6. Lyres - I Want To Help You Ann (02:30)
7. Beat Happening - Our Secret (02:48)
8. Jane's Addiction - Jane Says (04:53)
9. Julian Cope - World Shut Your Mouth (03:34)
10. Kate Bush - Running Up That Hill (05:00)
11. The Gun Club - Sex Beat (02:48)
12. Camper Van Beethoven - Take The Skinheads Bowling (02:30)
13. Suicidal Tendencies - Institutionalized (03:49)
14. Cocteau Twins - Pearly-Dewdrops' Drops (04:11)
15. Happy Mondays - 24 Hour Party People (04:38)
16. Hoodoo Gurus - I Want You Back (03:11)
17. Descendents - Suburban Home (01:42)
18. The Pogues - A Pair Of Brown Eyes (04:53)
19. The Three O'Clock - Jet Fighter (03:27)
20. Butthole Surfers - Moving To Florida (04:32)
21. Billy Bragg - A New England (02:13)
DOWNLOADuploadgig.comrapidgator.netnitro.download