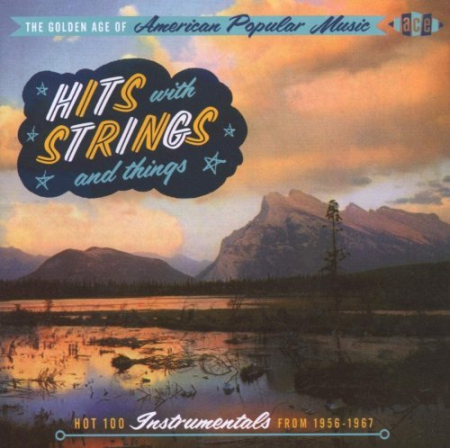 MP3 320 kbps / FLAC (tracks+.cue, log) | 1h 10 min | Pop, Easy Listening | 161 / 377 MB
1. Kai Winding - More (2:04)
2. Paul Mauriat - Love Is Blue (L'amour Est Bleu) (2:36)
3. The Village Stompers - Washington Square (2:43)
4. Bob Moore & His Orchestra - Mexico (2:38)
5. Bill Pursell - Our Winter Love (2:26)
6. Joe Harnell & His Orchestra - Fly Me To The Moon - Bossa Nova (2:30)
7. Frank Slay & His Orchestra - Flying Circle (2:17)
8. Hank Levine & Orchestra - Image - Part I (2:24)
9. Bent Fabric & His Piano - Alley Cat (2:33)
10. Sir Chauncey & His Exciting Strings - Beautiful Obsession (2:14)
11. Al Hirt - Java (1:58)
12. The Islanders - The Enchanted Sea (2:05)
13. Horst Jankowski - A Walk In The Black Forest (2:52)
14. Lawrence Welk - Calcutta (2:17)
15. Henry Mancini - Moon River (2:46)
16. Sounds Orchestral - Cast Your Fate To The Wind (3:15)
17. Billy Vaughn & His Orchestra - A Swi' Safari (2:17)
18. Acker Bilk - Stranger On The Shore (With The Leon Young String Chorale) (2:57)
19. Monty Kelly & His Orchestra - Summer Set (2:44)
20. Miniature Men - Baby Elephant Walk (1:59)
21. H.B. Barnum - Lost Love (2:23)
22. Raymond Lefevre & His Orchestra - Soul Coaxing (Ame Caline) (2:37)
23. The Brass Ring - The Dis-Advantages Of You (2:25)
24. Walter Wanderley - So Nice (Summer Samba) (3:07)
25. Hugo Winterhalter & His Orchestra - Canadian Sunset (2:55)
26. The Bob Crewe Generation - Music To Watch Girls By (2:56)
27. Percy Faith - Theme From A Summer Place (2:24)
28. Al Caiola - Bonanza (2:19)
Here are the orchestral and `easy' instrumental hits, both big and small - but mostly big - that helped define the Golden Age of Popular Music, an era spanning, roughly, 1956-1967, when the US charts were brimming with an eclectic cornucopia of sounds and styles that is unlikely to be repeated in today's age corporate, socially eeered music making. `Hits With Strings And Things' is an important addition to this best-selling Ace series.
An element of post-modern ironic in our approach makes `Hits With Strings And Things' extremely pleasing on the ear while avoiding the blandness that characterises other releases of this kind. There is a surprise at every turn. Many of the tunes feature strings or horns (or a combination of both) with intrusions from the occasional twangy guitar (`Flying Circle') and even a dash of marimbas (`The Dis-Advantages Of You').
MOJO rated `Hits With Strings And Things' highly enough to award it 4-stars, describing some of the US-only hits (which the majority were) as `pleasantly alien'.
Three of the titles by H.B. Barnum, The Minature Men and Frank Slay are completely new to CD. In common with all other selections, these have been mastered from the original tapes.
Compiled and annotated by Rob Finnis with an exceptionally well presented booklet contains dozens of rare ads and evocative illustrations. Extremely attractive eye-catching cover art.
DOWNLOADuploadgig.comrapidgator.netnitro.download