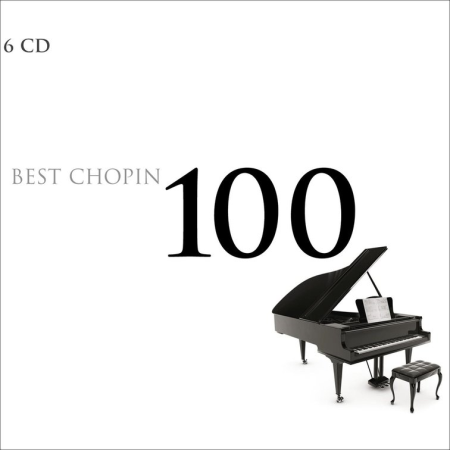 MP3 320 Kbps | Classical | 884 Mb
100 BEST CHOPIN CLASSICS is the next release in EMI's highly successful 100 BEST series. This 6 CD box set contains all the most familiar and best-loved works by the Polish composer Frédéric Chopin, performed by a galaxy of star pianists.
Chopin is universally acclaimed as one of the most original and innovative composers of music for the piano, especially in the romantic and lyrical field, but his compositions also demand brilliant technical virtuosity. Much of his music is deeply patriotic and infused with a love of his native Poland. He particularly exploited dance forms like the waltz, the mazurka and the polonaise, and he also developed the nocturne into a significant form of piano literature.
His works have been heard in many contexts including ballets such as Le Sylphides, Dances at a Gathering and A Month in the Country; films like The Pianist, The Truman Story, A Song to Remember and many others, as well as popular songs such as I'm Always Chasing Rainbows, Till the End of and Could It Be Magic.
This collection covers all the main genres in which Chopin wrote, and includes the complete sets of Preludes and Études, the 14 Waltzes, plus a generous selection of the most familiar Polonaises, Mazurkas, Nocturnes and Impromptus, as well as single pieces like the soothing Berceuse, the evocative Barcarolle and the stirring Fantaisie-impromptu. Works for piano and orchestra are represented by the Andante spianato et grand polonaise, Krakowiak, Fantasy on Polish Airs, Variations on 'La ci darem la mano' and extracts from the two piano concertos.
The pianists heard in this album include exciting new performers like Ingrid Fliter and Nelson Goerner, as well as many established stars like Leif Ove Ansdnes, Martha Argerich, Daniel Barenboim, Stanislav Bunin, Stephen Kovacevich, Mikhail Pletnev and Maurizio Pollini. Other great artists of the keyboard who participate are Dmitri Alexeev, Claudio Arrau, Georges Cziffra, Yuri Egorov, Samson François, Andre Gavrilov, Garrick Ohlsson, Maria Tipo and Alexis Weissenberg. Also heard are two legendary pianists from an earlier : Dinu Lipatti and Arthur Rubinstein.
CD1:
01. Waltzes: No. 1 in E-Flat, Op. 18
02. Waltzes: No. 2 in A-Flat Major, Op. 34, No. 1 ('Valse Brillante')
03. Waltzes: No. 3 in A Minor, Op. 34, No. 2
04. Waltzes: No. 4 in F Major, Op. 34, No. 3 ('Valse Brillante')
05. Waltzes: No. 5 in A-Flat Major, Op. 42 ('Grande Valse')
06. Waltz in D-Flat, Op. 64, No. 1 'Minute'
07. Waltz in C-Sharp Minor, Op. 64, No. 2 - Tempo Giusto
08. Waltzes: Waltz in A-Flat Major, Op. 64, No. 3 - Moderato
09. Waltzes: No. 9 in A-Flat Major, Op. 69, No. 1
10. Waltzes: No. 10 in B Minor, Op. 69, No. 2
11. Waltzes: No. 11 in G-Flat Major, Op. 70 - 1
12. Waltzes: No. 12 in F Minor, Op. 70 - 2
13. Waltzes: No. 13 in D-Flat Major, Op. 70 - 3
14. Waltzes: No. 14 in E Minor, Op. Posth.
15. Berceuse in D-Flat, Op. 57
16. 4 Ballades: No. 3 in A-Flat Major, Op. 47
17. Fantaisie-Impromptu in C-Sharp Minor, Op. 66
CD2:
01. Preludes, Op. 28: No. 1 in C Major (Agitato)
02. Preludes, Op. 28: No. 2 in A Minor (Lento)
03. Preludes, Op. 28: No. 3 in G Major (Vivace)
04. Preludes, Op. 28: No. 4 in E Minor (Largo)
05. Preludes, Op. 28: No. 5 in D Major (Allegro Molto)
06. Preludes, Op. 28: No. 6 in B Minor (Lento Assai)
07. Preludes, Op. 28: No. 7 in A Major (Andantino)
08. Preludes, Op. 28: No. 8 in F-Sharp Minor (Molto Agitato)
09. Preludes, Op. 28: No. 9 in E Major (Largo)
10. Preludes, Op. 28: No. 10 in C-Sharp Minor (Allegro Molto)
11. Preludes, Op. 28: No. 11 in B Major (Vivace)
12. Preludes, Op. 28: No. 12 in G-Sharp Minor (Presto)
13. Preludes, Op. 28: No. 13 in F-Sharp Major (Lento)
14. Preludes, Op. 28: No. 14 in E-Flat Minor (Allegro)
15. Preludes, Op. 28: No. 15 in D-Flat Major (Sostenuto) ["Raindrop"]
16. Preludes, Op. 28: No. 16 in B-Flat Minor (Presto con Fuoco)
17. Preludes, Op. 28: No. 17 in A-Flat Major (Allegretto)
18. Preludes, Op. 28: No. 18 in F Minor (Allegro Molto)
19. Preludes, Op. 28: No. 19 in E-Flat Major (Vivace)
20. Preludes, Op. 28: No. 20 in C Minor (Largo)
21. Preludes, Op. 28: No. 21 in B-Flat Major (Cantabile)
22. Preludes, Op. 28: No. 22 in G Minor (Molto Agitato)
23. Preludes, Op. 28: No. 23 in F Major (Moderato)
24. Preludes, Op. 28: No. 24 in D Minor (Allegro Appassionato)
25. Barcarolle in F-Sharp Minor, Op. 60: Allegretto
26. Polonaise No. 3 in a 'Military', Op. 40, No. 1
27. Polonaise No. 6 in A-Flat 'Heroic', Op. 53
CD3:
01. Variations in B-Flat Major On "La Ci Darem", Op. 2
02. Piano Concerto No. 1 in E Minor, Op. 11: II. Romanze (Larghetto)
03. Piano Concerto No. 1 in E Minor, Op. 11: III. Rondo (Vivace)
04. Piano Concerto No. 2 in F Minor, Op. 21: II. Larghetto
05. Andante Spianato and Grande Polonaise in E-Flat Major, Op. 22
06. Krakowiak, Op. 14
CD4:
01. 27 Etudes Opp. 10, 25 and Posth: C, Op. 10 - 1
02. 27 Etudes Opp. 10, 25 and Posth: A Minor, Op. 10 - 2
03. 27 Etudes Opp. 10, 25 and Posth: In e 'Tristesse', Op. 10 - 3
04. 27 Etudes Opp. 10, 25 and Posth: C-Sharp Minor, Op. 10 - 4
05. 27 Etudes Opp. 10, 25 and Posth: G-Flat, 'Black Keys', Op. 10 - 5
06. 27 Etudes Opp. 10, 25 and Posth: E-Flat Minor, Op. 10 - 6
07. 27 Etudes Opp. 10, 25 and Posth: C, Op. 10 - 7
08. 27 Etudes Opp. 10, 25 and Posth: F, Op. 10 - 8
09. 27 Etudes Opp. 10, 25 and Posth: F Minor, Op. 10 - 9
10. 27 Etudes Opp. 10, 25 and Posth: A-Flat, Op. 10 - 10
11. 27 Etudes Opp. 10, 25 and Posth: E-Flat, Op. 10 - 11
12. 27 Etudes Opp. 10, 25 and Posth: In C Minor 'Revolutionary', Op. 10 - 12
13. 12 Etudes, Op. 25: No. 1 in A-Flat Major ('Harp Study')
14. 12 Etudes, Op. 25: No. 2 in F Minor
15. 12 Etudes, Op. 25: No. 3 in F Major
16. 12 Etudes, Op. 25: No. 4 in A Minor
17. 12 Etudes, Op. 25: No. 5 in E Minor
18. 12 Etudes, Op. 25: No. 6 in G-Sharp Minor
19. 12 Etudes, Op. 25: No. 7 in C-Sharp Minor
20. 12 Etudes, Op. 25: No. 8 in D-Flat Major
21. 12 Etudes, Op. 25: No. 9 in G-Flat Major ('Butterfly's Wings')
22. 12 Etudes, Op. 25: No. 10 in B Minor
23. 12 Etudes, Op. 25: No. 11 in A Minor ('Winter Wind')
24. 12 Etudes, Op. 25: No. 12 in C Minor
CD5:
01. 3 Impromptus: No. 1 in A-Flat, Op. 29
02. 3 Impromptus: No. 2 in F-Sharp, Op. 36
03. 3 Impromptus: No. 3 in G-Flat, Op. 51
04. Nocturne No. 1 in B-Flat Minor - en Si Bemol Mineur, Op. 9, No. 1
05. Nocturne No. 2 en Mi Bemol Majeur, Op. 9, No. 2
06. Nocturne No. 5 in F-Sharp Major - en Fa Diese Majeur, Op. 15, No. 2
07. Nocturnes: No. 9 in B Major, Op. 32, No. 1
08. Nocturnes: No. 10 in A-Flat Major, Op. 32, No. 2
09. Nocturnes: No. 12 in G Major, Op. 37, No. 2
10. Nocturnes: C-Sharp Minor, Op. Posthumous
11. Piano Sonata No. 2 in B-Flat Minor, Op. 35: III. Marche Funebre (Lento)
12. Piano Sonata No. 3 in B Minor, Op. 58: IV. Finale: Presto non Tanto
CD6:
01. Mazurkas Nos. 1-58: No. 2 in C-Sharp Minor, Op. 6, No. 2
02. Mazurkas Nos. 1-58: No. 5 in B-Flat Major, Op. 7, No. 1
03. Mazurkas Nos. 1-58: No. 8 in A-Flat Major, Op. 7, No. 4
04. Mazurkas Nos. 1-58: No. 20 in D-Flat Major, Op. 30, No. 3
05. Mazurkas Nos. 1-58: No. 23 in D Major, Op. 33, No. 2
06. Mazurkas Nos. 1-58: No. 24 in C Major, Op. 33, No. 3
07. Mazurkas: No. 39 in B, Op. 63, No. 1
08. Mazurkas: No. 40 in F Minor, Op. 63, No. 2
09. Mazurkas: No. 42 in G, Op. 67, No. 1
10. Mazurkas: No. 43 in G Minor, Op. 67, No. 2
11. Scherzo No. 2 in B-Flat Minor, Op. 31
12. Polonaise-fantaisie in A-Flat, Op. 61
13. Rondo in C Major for 2 Pianos, Op. 73
14. Fantasia On Polish National Airs, Op. 13
DOWNLOADuploadgig.comrapidgator.netnitro.download