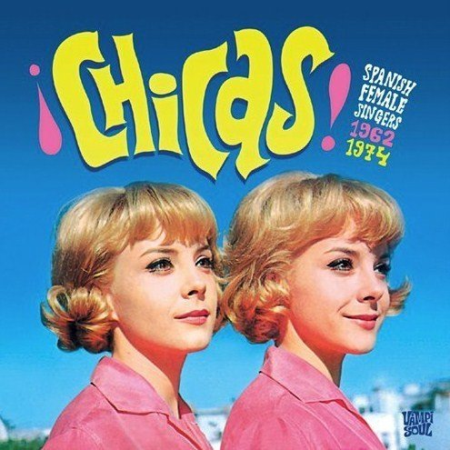 MP3 320 kbps+scans / FLAC (tracks+.cue, log, scans) | Rock , Latin , Funk / Soul , Pop, | 1h 2 min | 207/ 487 MB
01. Margarita Sierra - Cha Cha Twist (2:19)
02. Pili Y Mili - Un Chico Moderno (2:21)
03. Marisa Medina - No Te Acuerdas De Mí (2:06)
04. Los Stop - Extiende Tus Brazos (2:02)
05. Ellas - Llovío (2:36)
06. Los Que Vivimos - Contrapunto (4:12)
07. Sonia - Aquì En Mi Nube (2:35)
08. Marisol - Johnny (2:13)
09. Alicia Granados - Batiendo Palmas (1:52)
10. Mirla - Déjame En Paz (2:37)
11. Lorella Con Los Shakers - Sola Estoy (2:26)
12. Los Hippy-Loyas - Love, Love, Love (3:16)
13. Vainica Doble - La Màquina Infernal (3:10)
14. Los Tíos Queridos - Por Eso Vuelve, Por Favor (3:02)
15. Fresia Soto - Desencadena Mi Corazòn (2:17)
16. Marisel - Mi Baby (2:00)
17. Encarnita Polo - Hava Naguila (2:52)
18. Marta Baizán - Te Veré En Septiembre (2:14)
19. Laura Casale - The More I See You (2:32)
20. Tania Velia - Los Pepinillos (2:26)
21. Gelu - Y... Y... (3:08)
22. Las Chic - Cerca De Ti (2:28)
23. Los 3 Sudamericanos - Yeh Yeh (2:37)
24. Lia Uyá - Mientes (3:27)
An irresistible collection of ye-yé, rock & roll, twist, beat, garage, rhythm & blues, soul and Latin sounds!
From the early 60s and a difficult political and social context, Spanish female singers - and those who moved to Spain- disregarded conventions and overcame all barriers to be part of a music movement that shook the Spanish society of the period.
Includes sleeve notes by expert Vicente Fabuel and a fantastic selection of record sleeves and photographs.
Most tracks are reissued legally for the first .
At the same told by the international clock and with almost no delay at all, Spanish girl pop made itself present when it was necessary. Oblivious to the scarcity of exciting sounds that late-Francoist Spain offered them, the Spanish girls disregarded conventions and overcame all barriers and suspicions without letting the latest fashionable hairdo get ruined. In those doubtful years during which, apart from copla, any other music style was considered highly suspicious, the leading girls didn't hesitate and abandoned themselves to the whole musical range, both local and international, at their disposal. Despite the difficulties, and there were many, the incipient permeability of Spanish politics of the played its part and, from 1963 onwards, female ye-yé became an absolute reality that shook the Spanish society of the period.
A true salvation, a social panacea, that's what female ye-yé was in 1960s Spain, a small revolution of customs dressed in a mini-skirt and playing at 45 rpm. In the wake of its charm, modernity and intrinsically female character, everyone in Spain became ye-yé and the social landscape gained freedom following the trail left by the girls. Thanks to it, the continuous socio-musical changes that came immediately after from all over the world (beat, garage, soul, psychedelia, prog.) didn't catch anyone wrong-footed. In each and all of those events the girls took part.
For a while now, various compilations have been released in Spain documenting styles, scenes and artists belog to such happening decades (creatively speaking) as the 50s, 60s and 70s, and nevertheless, there hasn't been one featuring only female contributions to the cause. Because we could never thank them enough for their effort, Vampisoul brings you this first volume of "¡Chicas!", showing how this exquisite group of Spanish girls covered with talent, class and glamour the period rag from 1962 to 1974.
It's been a pleasure to dig through hundreds and hundreds of recordings from those years with no premise but to find capital songs, the relevance of which cannot be denied today. Finally, I must make two observations: firstly, when compiling "¡Chicas!" all genres have been considered: Latin, rock & roll, twist, ye-yé, beat, garage, rhythm & blues, soul. Secondly, apart from celebrating all the shining artists featured here, I must confess that when I immersed myself into those hundreds of records, I was surprised to find out that, not on purpose, the final selection contained a great number of recordings released on the Catalan label Belter. Personally, once again, it's been an honour to revisit and rediscover the unbelievable legacy of the fascinating, mysterious and immense records of the Belter factory. This compilation is dedicated to them.
DOWNLOADuploadgig.comrapidgator.netnitro.download