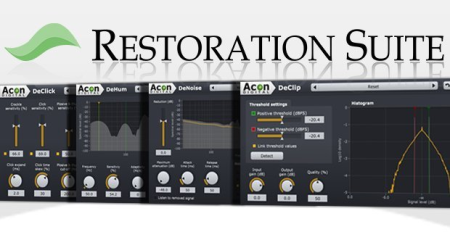 File size: 21 MB
When it comes to reverb, it's all about the sound quality.
Verberate is an algorithmic reverb plug-in that simulates real acoustical surroundings with exceptional realism. The first Verberate version already raised the bar. Version 2 introduces the Vivid Hall algorithm that adds variance to avoid the stiffness that plagues convolution based reverbs while preserving the natural high density reverb tails of Verberate 1.
Real acoustical surroundings will have slight variations due to air currents, moving performers or movements in the audience. While these variations may seem subtle, the effect towards the end of the reverb tail is significant, since the sound is reflected a large number of s before the reverb tail fades out. The new Vivid Hall algorithm models these random variations without artifacts like chorus effects or pitch changes, and is therefore capable of simulating reverberation of real halls with a higher degree of realism.
Highly realistic simulation of real acoustical spaces and mechanical plates
The new variant Vivid Hall algorithm goes beyond convolution
Powerful decay editor allows frequency dependent reverb s
Versatile integrated output equalizer
DeNoise 2 is a plug-in designed to reduce noise such as hiss, wind noise, buzz and camera noise. The noise can be reduced automatically in the adaptive mode or after measuring the characteristics of the noise in the noise profile mode. New in version 2 are dynamic noise profiles that capture the dynamic properties of the noise so that noise that fluctuates over , such as wind noise, can be effectively reduced. The new algorithm has also been greatly improved and is now even less prone to typical de-noising artifacts.
DeHum 2 targets hum and buzz typically introduced by poorly grounded electrical equipment, but also other tonal noise sources like electrical motor noise. The hum detection algorithm has been improved in version 2 and there's now a new Scan button that automatically fine tunes the fundamental hum frequency.
DeClick 2 is designed to remove impulsive noise such as clicks, crackle and thumps. These distortions are frequently encountered on LP and 78 RPM records, but also occur in digital recordings due to drop-outs or distorted data packets. DeClick 2's thump reduction works also effectively on vocal recordings with unwanted plosives. The algorithm has been improved in version 2 and is now less prone to reducing attacks and transients in the wanted signal.
DeClip 2 restores audio recordings distorted by analog or digital clipping with an improved algorithm.
Updated all produkts.
DOWNLOADuploadgigrapidgatornitro